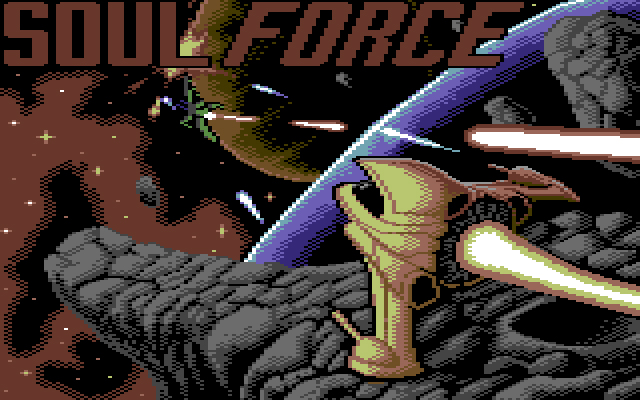 Soul Force
Before you buy Soul Force: Please note that there is also a spin-off of Soul Force available as a low-priced digital download. Snow Force and Soul Force X (which is included in the Snow Force package) are modified versions of Soul Force and can be obtained for a low price here.
Soul Force won GAME OF THE YEAR in the RGN C64 Gamers' Choice Award 2021!
The Soultron star system has been at peace for millenniums, the echoes of warfare long faded, its people living in hope for a never-ending peaceful existence.
Yet some had looked out into the skies, wondering what lay beyond, and what dangers could descend upon their peaceful worlds. In secret they developed project Soul Force, an advanced space fighter designed to defend the Soultron system from an outside threat.
And from the darkness of deep space comes a terrible bio-mechanical fleet swarming into the Soultron star system, monstrous creations descending upon the peaceful planets, tearing into the ground for reasons unknown. Communication attempts remain unanswered, the invaders obliterating any ship brave enough to approach...
We have chosen you to launch and pilot the new Soul Force space fighter against this terrifying threat and liberate our star system. Learn our enemy's plans and put a stop to them for good. The fate of our star system lies in our hands. You are our last and only hope...
Soul Force is an outstanding and immeasurable SHMUP game for your Commodore 64 personal computer. It is the long awaited first cartridge release from Sarah Jane Avory, known for her other SHMUPs Neutron and Zeta Wing. If you haven't seen these highly popular space shooters yet, you had better head over to her itch.io page and give these games a shot.
Key Features of Soul Force:

20 adrenaline filled horizontal shoot'em up levels, each with their own distinct graphical theme
A dedicated bitmap screen and music for each level
Seven in-game bonus items to collect
Four individually upgradable weapon systems
General ship upgrades
Lots of boss fights
Four difficulty settings
Password and flexible save game system
Progress automatically saved to cartridge
Fully PAL & NTSC compatible
Purchase
In order to download this game you must purchase it at or above the minimum price of $8.99 USD. You will get access to the following files:
Soul Force (Windows executable)
29 MB
Soul Force (C64 binaries only)
3 MB